Posted on: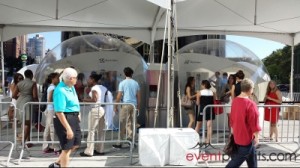 We recently assisted
Electrolux
in an experiential marketing event at Columbus Circle in
New York City
. The event, titled the "Electrolux Perfect Temp Setting," was held in order to showcase Electrolux's new refrigerator, the Electrolux French Door Refrigerator that has several state-of-the-art features, one of which is the Perfect Temp® Drawer with Luxury-Close™, which offers the ability to choose from a variety of temperatures so that people can select the specific setting that is most appropriate for the items they are storing. We secured several New York City event permits and certificates, as well as provided coordination for other aspects of the activities.
For this event, we assisted Electrolux in preparations to implement the unique set-up of the event, including the structure that the event was housed in. The structure consisted of several connected balloons that made up an interior space, which housed the refrigerators and kept the interior the "perfect temperature," mimicking the "perfect temperature" that the Electrolux refrigerators create. For this part of the event, we acquired the Department of Building Permit, which was needed for the 36' x 36' hexagonal shade that covered the event.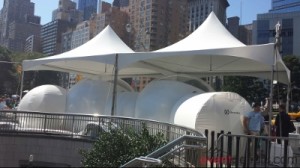 Kelly Ripa was the celebrity guest of this unique promotional event, and she was on site blending frozen "mocktails" for attendees. For the sampling aspect of the day, we assisted by securing the Health Permit (needed to distribute the blended drinks), the Generator Permit (required to run the generator that powered the event), and the Fuel Handler Certificate (required for the fuel handler of the generator). Additionally, we coordinated security, which consisted of four security guards, and parking for the food truck that the drinks were distributed from and for Mrs. Ripa's RV.
•
Permits
by PRomotion/
EventPermits
: Department of Building Permit, Health Permit, Generator Permit, Fuel Handler Certificate
• Parking Coordinated by: EventPermits
• Security Coordinated by: EventPermits
• Promoted Brand: Electrolux
• Venue: Columbus Circle, New York City