Posted on: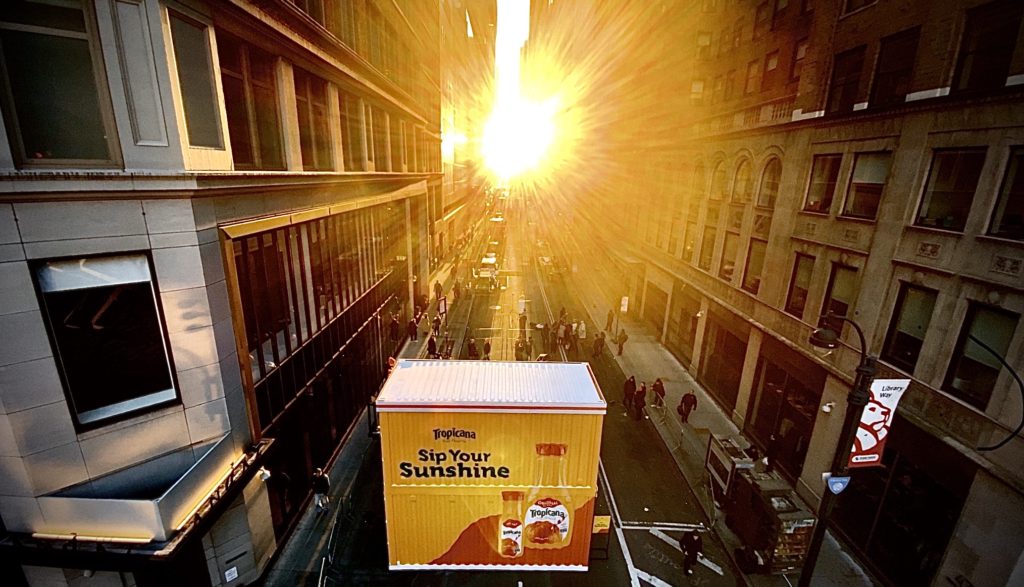 Tropicana kicked off their "Sip Your Sunshine" campaign on January 22nd with an epic film shoot of the Manhattanhenge sunrise. The 41st Street location was carefully selected after consultation and collaboration with local expert Astronomers.
The media outpost provided for an elevated shooting platform for broadcast and cable media, select bloggers, and influencers, to step inside a heated, 2-story custom BoxPop™ pop-up container; sip on some Tropicana Orange Juice, take photos and capture the sunrise over 41st Street, from high above 5th Avenue.
Manhattanhenge occurs when the sun rises or sets in complete alignment with the New York City street grid. Although it only takes place a few times a year, it has become a popular photography moment for both the accredited media and amateur photogs, alike. The film shoot captured the Manhattan sun emerging perfectly out of a container of orange juice, which Tropicana will use in their upcoming "Sip Your Sunshine" campaign.
The container consisted of two exciting media moments, including a large photo-op backdrop made completely out of oranges, and a plant wall which outlined a back-lit Tropicana logo.
The film shoot kicked off with a surprise appearance by "The Office" and "The Incredible Kimmy Schmidt" star, Ellie Kemper, who recently partnered with Tropicana on the Sip Your Sunshine campaign. Known for her bubbly personality, Kemper led the crowd in raising her glass of orange juice as the sunrise began.
If you missed Manhattanhenge this time around- don't worry! The next Manhattanhenge is expected to happen on May 30th.
Are you looking for a custom-fabricated container, strategic event locations, or event permits? We can help! Contact us at hello@eventpermits.com for more information.
Check out what it took to make this film shoot possible!