Posted on: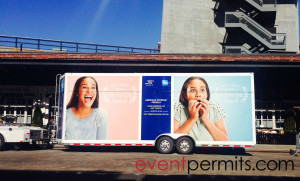 We recently secured parking permits for multiple locations of a mobile marketing street event that stopped in Union Square Park, Washington Park, the Meatpacking District, Madison Square Park, and in the Tribeca/Greenwich area — home to the annual film festival.
The street-level marketing event promoted this year's film festival with a branded trailer that featured a photo booth. Passersby were encouraged to climb on board and show off their most dramatic expressions, from the serious to the silly. As they exited, participants were given prints of their photos and had an opportunity to purchase advance tickets to the Tribeca Film Festival.
The EventPermits team worked to secure parking permits for each of the five locations and also coordinated logistics and planning. In addition, we contracted security personnel for each location, provided by Marty Barnes Security.
Parking permits are essential for mobile marketing vehicles and tours to allow vehicles to remain parked on city property and also ensures a safe parking space is available that can accommodate the large footprints of marketing vehicles and trailers. Adequate spacing is imperative for the safety of participants, passersby, brand ambassadors and other motorists.
In addition, we are able to secure prime locations for each stop on a mobile marketing tour in order to match the desired demographic, pedestrian traffic, and picturesque location requirements from your brand client. Our experience and the relationships we have developed with municipal offices in each city are a tremendous asset to fulfilling these three requirements.
EventPermits secured permits and scouted locations on these recent successful nationwide mobile marketing tours for major brands:
Contact EventPermits today to begin planning your next mobile marketing campaign. Our fully staffed offices across the country can help you scout and secure the perfect location and ensure you're fully and correctly permitted to launch a successful activation.
Permits by EventPermits: Parking Permit
Security Coordinated by: EventPermits
Logistics and Coordination by: EventPermits
Security Provided by: Marty Barnes Security
Locations: Union Square Park, Washington Park, the Meatpacking District, Madison Square Park, and in the Tribeca/Greenwich