Event Permits Orlando
Orlando is host to many outdoor events on an annual basis. As you start the planning process, it is important to recognize that your event plays a unique part in the relationship with the community. A quality event can make a difference to the City of Orlando. EventPermits works with the City of Orlando and its partners, in planning safe and successful events that comply with city law.
Orlando Event Locations:
Walt Disney World Resort
Universal Orlando Resort
SeaWorld Orlando
Nickelodeon Studios
Jay Bergman Field
Citrus Bowl / Capital One Bowl
Tangerine Bowl / Champs Sports Bowl
Amway Arena
Orlando Events Center
Bright House Network Stadium
The Orlando area is home to a wide variety of tourist attractions, including the Walt Disney World Resort, Universal Orlando Resort, and SeaWorld Orlando. The Walt Disney World resort is the area's largest attraction with its many facets such as the Magic Kingdom, Epcot, Disney's Hollywood Studios, Disney's Animal Kingdom, Typhoon Lagoon, Blizzard Beach, and Downtown Disney. SeaWorld Orlando is a large park that features numerous zoological displays and marine animals alongside an amusement park with roller coasters and water park. Universal Orlando, like Walt Disney World, is a multi-faceted resort comprising Universal Studios Florida, CityWalk, and the Islands of Adventure theme park. Orlando attractions also significantly appeal to many locals who want to enjoy themselves close to home.
The hip-hop music scene, metal scene, rock music scene, reggaeton and Latino scene are all active within the city, which is largely home to the Florida Breakbeat movement. Orlando has also been called Hollywood East because of numerous cinematic enterprises in the area.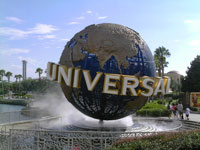 Universal Studios Globe
Cinderella Castle at the Magic Kingdom
Until recently, Walt Disney Feature Animation operated a studio out of Disney's Hollywood Studios at the Walt Disney World Resort. Feature Animation-Florida was primarily responsible for the films Mulan, Lilo & Stitch, and the early stages of Brother Bear and contributed on various other projects. Universal Studios' Soundstage 21 is home to The TNA Impact Zone. Nickelodeon Studios, which through the 90s produced hundreds of hours of GAK-filled game shows targeted at children, no longer operates out of Universal Studios Florida. The Florida Film Festival in nearby Maitland is one of the most respected regional film festivals in the country and attracts budding filmmakers from around the world. In addition, the implosion of Orlando's previous City Hall was filmed for the movie Lethal Weapon 3. Orlando's indie film scene has been picking back up since Haxan Film's The Blair Witch Project (1999) and a few years later with Charlize Theron winning her Academy Award for Monster (2003). A Florida state film incentive has also helped increase the amount of films being produced in Orlando and the rest of the state.
The Orlando Metropolitan Area is also home to a substantial theatre population. Several professional and semi-professional houses and many community theaters dot the area including Orlando Shakespeare Theater, Orlando Repertory Theatre (Central Florida's only Professional Theatre for Young Audiences), Orlando Theatre Project, Mad Cow Theatre, Theatre Downtown, The Osceola Center for the Arts, Winter Park Playhouse, Theatre Winter Haven, and IceHouse Theatre. Disney also has a cast theater company known as S.T.A.G.E. as well as Encore, a cast choir and orchestra whose annual charity concerts have raised thousands of dollars. Additionally, both University of Central Florida and Rollins College (Winter Park) are home to well respected Theatre Departments that provide an influx of young artists to the local area.
In addition, the Bob Carr Performing Arts Centre brings national tours through town on a regular basis. This venue, built in 1926, will be replaced by the Dr. P. Phillips Orlando Performing Arts Center in 2012.
Each spring, local theaters and downtown venues play host to the Orlando International Fringe Theater Festival, which draws touring companies from all around the world as well as readings and fully staged productions of new and unknown plays by local artists. Also in the spring, there is The Harriett Lake Festival of New Plays, hosted by Orlando Shakespeare Theater.
Orlando Science Center
The Orlando Museum of Art is Orlando's largest modern art museum. Located in Loch Haven Park, the museum has ongoing exhibitions of American portraits and landscapes, American impressionist works, and art of the ancient Americas. In 2003, the museum hosted the world-renowned full exhibition of the famous glass sculptor, Dale Chihuly.
Orlando Science Center is a 207,000 square foot hands-on learning center with hundreds of interactive exhibits for visitors of all ages. Images surround visitors on the giant screen of the Dr. Phillips CineDome. Other attractions include the Body Zone, teaching health and fitness, as well as an observatory. The center has the largest refracting telescope in Florida. In 2007, the Orlando Science Center hosted the nationally renowned exhibit "Our Body, The Universe Within" featuring specially preserved human cadavers.
The Morse Museum of American Art, located in nearby Winter Park, houses the world's "most comprehensive" collection of the works of Louis Comfort Tiffany, among its permanent exhibits. It includes Tiffany art glass, jewelry, pottery, and the chapel interior designed for the 1893 World's Columbian Exposition in Chicago. There is also an exhibit on the Tiffany home, and American paintings from the 19th century. The museum was founded in 1942.
The Orange County Regional History Center Features exhibits and artifacts from the earliest days of the region to the modern day. Includes information on everything from the time of the Seminole Indians to the founding of the city to the Civil Rights era to the Disney period to today.
Mennello Museum of American Art features a variety of American Art exhibits, mostly from the 20th century. The museum is located in Loch Haven Park.
Cornell Fine Arts Museum, situated on the campus of Rollins College, located in nearby Winter Park, features significant loans, recent acquisitions, and items from the Cornell's renowned permanent collection. Admission is free.
Harry P. Leu Gardens, which is an inner-city oasis covering 50 acres and features colorful annuals, palms, a floral clock and a butterfly garden.
Arboretum of the University of Central Florida is an arboretum and botanical garden located in the heart of the University of Central Florida main campus in East Orlando.
The Holocaust Memorial Resource and Education Center of Central Florida is a non-profit museum and education center dedicated to the Holocaust during World War II.
Orlando has become one of the fastest growing retail markets in the USA with at least five major upscale department stores opening last year alone and more than 50,000,000 square feet (4,650,000 m) of shopping space in Central Florida.
The Florida Mall is the largest mall in Orlando, one of the largest single-story malls in the USA at over 1,849,000 sq ft with over 250 stores, seven anchor department stores, and the Florida Mall Hotel & Conference Center Tower.
The Mall at Millenia is a contemporary two-level upscale shopping mall, including the world-famous department stores of Bloomingdale's, Macy's, and Neiman Marcus. IKEA Orlando opened adjacent to the mall on November 14, 2007.
Orlando Fashion Square is the nearest indoor shopping mall to Downtown Orlando. The mall features four anchor department stores and a 14-screen Premiere Cinema theater.
Festival Bay Mall on International Drive is home to stores, a skate park, and a theater.
Orlando is the home city of the Orlando Magic of the NBA, the Orlando Predators of the AFL and the University of Central Florida (UCF) Knights college athletics teams. It has also been home to several successful minor league sports teams which have won two titles in ice hockey, three titles in minor league baseball, one title in soccer, one title in American football, and one title in roller hockey.
Orlando has produced several major athletes, such as baseball players A.J. Pierzynski and Johnny Damon, football players Warren Sapp, Daunte Culpepper and Kevin Smith, basketball players Amar'e Stoudemire and Darius Washington, and soccer player Michelle Akers. Orlando is also home to many current and notable former athletes as well, including baseball players Carlos Pena, Frank Viola, and Ken Griffey, Jr., basketball player Shaquille O'Neal, and many golfers, including Tiger Woods, Mark O'Meara and Arnold Palmer.
Will I need a Permit?
If you are asking this question, the answer most likely is, yes!
If you are in doubt about whether or not your proposed activity is an Outdoor Special Event, and are unsure of what is required, ask yourself the following questions:
Even though my event is on private property, will some aspects of it spill onto the public space? (i.e. sidewalks, roads, city property or property owned by someone other than you)
Is there a remote chance that the safety of the participants and/or the residents of the City of Orlando may be affected if certain aspects of your event are not properly constructed, installed, or handled (i.e. food, electrical wiring, tents, stages, generators)
Does your event require any City of Orlando services? ( i.e. trash pick up, closing of streets, etc.)
Will I be erecting a stage, tent (10 x 10 or larger), bleachers, or booths?
Will I be vending? (food, beverages, merchandise)
Will I be selling/serving Alcohol? Will my event include advertising and/or product sampling?
If you answered yes to any of the above questions, you will need an event permit in the City of Orlando and EventPermits will facilitate all of your needs on your behalf.
© Copyright 2009-2013 Team P.R.omotion, LLC. Special Event Permits and Event Permits Orlando | »
Back to Cities