Posted on: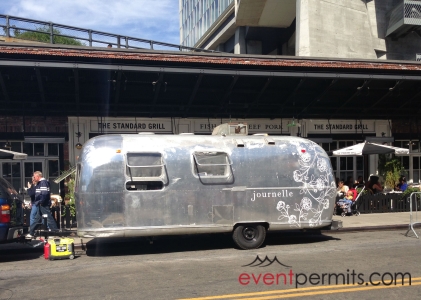 Through the late summer and fall, EventPermits assisted Journelle — a luxury lingerie company based in Manhattan — to coordinate a road trip to promote their brand and designer products. Kicking off at the beginning of July in Sag Harbor, NY and wrapping at their home store in Manhattan on October 25, the tour traveled through major cities in the northeast. EventPermits secured parking permits and security for stops in Chicago, Washington DC/Georgetown and in the Meatpacking District in NYC.
For the tour, Journelle converted a vintage 1970 Land Yacht Airstream trailer into a mobile store with plush seating, a complimentary champagne bar in select locations, plus fit experts and style consultants, creating a unique take on the traditional pop-up store. Painted silver, the trailer was named The Grey Lady. In several cities, mannequins and additional merchandise were placed outside the trailer in the surrounding parking lot to further draw in pedestrians and passers-by.
We assisted Journelle by coordinating and securing all necessary parking permits in Chicago, DC and Georgetown, and NYC. In addition, we coordinated security provided by Marty Barnes Security for the NYC since it was a high-traffic event during Fashion Week and BeautyBar was onboard.
We coordinated parking at private facilities in Chicago and DC to ensure high visibility and we secured these locations due to their high rate of pedestrian foot traffic. In Chicago, The Grey Lady was settled between the best bars and restaurants, resulting in lots of traffic and interaction.
Our on-going relationships with authorities and offices in New York and other cities ensured we were able to create a successful multi-city event for Journelle, allowing them to focus on building The Grey Lady and their customer base. For more information about the cities we secure permits in, visit https://eventpermits.com/cities-sites-venues/.
Permits by EventPermits: Parking Permit
Security Coordinated by: EventPermits
Logistics and Coordination by:  EventPermits
Security provided by: Marty Barnes Security
Promoted Brand: Journelle
Locations: Chicago, Washington DC/Georgetown, the Meatpacking District.