Providing Permits for Runners and Residents Alike
Posted on: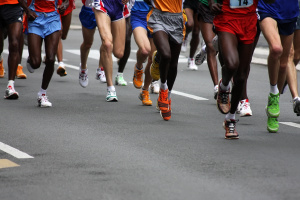 We recently secured permits for an extremely successful and wildly popular American footwear manufacturer that held an event in New York City promoting a new line of running shoes. The event, a Shoe Show Truck that took place on October 31 on 52nd Street, was attempting to reach not only passersby, but also the thousands of runners participating in the annual New York City Marathon.
The location, between 7th and 6th Street, was within walking distance to the Sheraton New York Times Square Hotel. EventPermits strategically secured this area because of the many marathon participants that were staying in hotels nearby. The strategy paid off, with many runners coming by to see the latest in footwear advances from the manufacturer. The Shoe Show Truck was decorated by professional graffiti artists.
The company, founded over 100 years ago, is considered one of the world's major sports footwear manufacturers. The limited-edition product on display at this Shoe Show Truck event was designed to reflect the colors and theme of the New York City Marathon and will be available for a limited time.
The product in question was developed using the very latest advances in technology—including 3D printing. While the specific running shoe being used for the event was made with the New York City Marathon colors, other color combinations are available. Running critics claim that these shoes are worth your consideration. They are light, fast and comfortably cushioned.
While promoting their new product was at the forefront of the company's mind, an opportunity to do good deeds for others was also a priority. Consumers who were interested in purchasing the running shoes were encouraged to swap their used shoes so they could be donated to charity.
EventPermits was commissioned by this footwear manufacturer to secure an activity permit for the Shoe Show Truck. An activity permit must be acquired for any activity on city property. EventPermits has secured thousands of these permits, along with many others types.
The Shoe Show Truck event was a rousing success and we really enjoyed working with a company wanting to engage in charitable giving. If your company is interested in a public event, please contact us for more information on event permitting.
Permits by EventPermits: Activity Permit
Security Coordinated by: EventPermits
Logistics and Coordination by: EventPermits
Security Provided by: Marty Barnes Security
Location: 52nd Street, between 6th and 7th NYC