Scouting and Securing Locations to Spread #HPJoy This Winter
Posted on: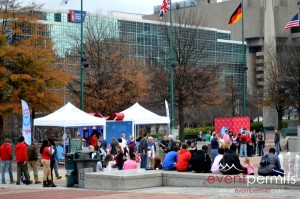 In November through early December of 2013, Hewlett Packard launched the HP Joy caravan to share and showcase its latest products that were perfect for holiday gifting. The caravan trekked from the west coast to the east, stopping in seven cities across the country.
The event kicked off at HP's headquarters in Palo Alto, CA. We scouted and contracted the locations for additional city stops:
Embarcadero in San Francisco, CA
The Third Street Promenade in the Hollywood Hills in Santa Monica, CA
The historic West End in downtown Dallas, TX
Chandler Fashion Center in Phoenix, AZ
The Magnificent Mile along Michigan Avenue in Chicago, IL
Centennial Olympic Park in Atlanta, GA.
The Shops at Georgetown in Capitol Hill in Washington D.C.
For the event, we partnered with agency The Bait Shoppe. The caravan consisted of a covered pop-up tent where visitors could try the new HP Chromebook featuring Google's Chrome operating system, new touch-screen tables and HP laptops. The caravan included plenty of HP's other devices like televisions, printers and computers. Brand ambassadors were decked out in cozy winter gear emblazoned with HP's logo and the event's custom hashtag, #hpjoy. They tested HP products, greeted visitors and helped people engage with all of HP's new devices.
The caravan was decked out in bright holiday colors, and was decorated to look like a wrapped Christmas present. Stops included a Christmas tree decorated with #hpjoy ornaments.
Events in each city offered giveaways, prizes and special treats for visitors like popcorn, hot cocoa and grilled cheese sandwiches. Santa Claus made an appearance in each city, inviting children and brand ambassadors to sit on his lap. In Atlanta, a group of break dancers even entertained the crowd.
Our expert knowledge of cities and locations across the country allowed us to work efficiently with The Bait Shoppe to secure spots for the caravan that would attract visitors throughout the day.
Logistics and Coordination by: EventPermits
Promoted Brand: HP
Locations: San Francisco, CA; Santa Monica, CA; Dallas, TX; Chicago, IL; Atlanta, GA; Washington D.C.