FedEx Holiday Gift Wrapping Station on 5th Avenue
Posted on: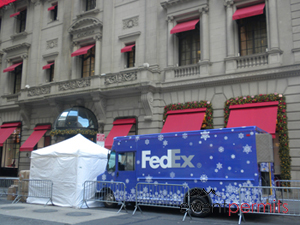 After last week's brief stretch of mild temperatures in New York, winter seems to have finally taken hold whether we like it or not. The cold weather is a stark reminder, for those of us who aren't done with our shopping, that Christmas is only two short weeks away. This is why FedEx wanted to put a Gift Wrapping Station in Mid-Town as well as launch the "FedEx Purple Hat Manhattan Takeover," during which some 10,000 purple Santa hats were handed out to New Yorkers and tourists alike.
With the help of EventPermits, FedEx reserved the corner of 52nd Street and 5th Avenue outside of the Cartier store for two days, December 9th and 10th. A Gift Wrapping Pop-Up Station was erected which allowed consumers to enjoy coffee and hot chocolate while their Christmas gifts were wrapped free of charge in a variety of papers and ribbons. For those that had just completed their shopping along 5th Avenue, this gift wrapping station was a pleasant surprise as it gave shoppers the opportunity to rest their exhausted feet and wallets. Purple FedEx Santa hats could be seen wandering throughout Midtown all weekend long and even made it to the sets of MyFoxNY and the Today Show early Monday morning.
Permits: Health Permit, Generator Permit, Activity Permit and Parking Permit by EventPermits
Security: D. Sterling Security
Event Production: This Is It! Stageworks
Staffing – Brand Ambassadors:  fameagency – New Orleans / NYC
Media Agency: OMD Worldwide
Advertising Agency: BBDO New York
Venue: Fifth Avenue – New York City – 52nd Street between 5th and Madison Ave.
Promoted Brand:  Federal Express  www.fedex.com