In Case You Missed It: 5 Upcoming Experiential Trends from #EMSlive
Posted on:
The micro trends that will dominate the event industry this year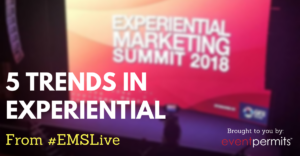 By Kate Bunster, Director of Marketing and Communications
EventPermits, LLC
This past week, some of the world's greatest minds in marketing gathered in San Francisco for EventMarketer's Experiential Marketing Summit. The week was packed with informative presentations from Samsung, Amazon, Mondelēz, Lyft and many more. Our team was incredibly inspired by the energy and insight that surrounded the event and are excited to share some of our key takeaways.
As technology and social behaviors continue to transform, so does the way that we– as marketers– communicate with our audiences. These changes are materialized in the trends we see each year in experiential. Here are five of those trends that were prevalent throughout this year's Event Marketer conference:
1. User Triggered Experiences
Now, more than ever, customers are craving to have total control over their experiences as consumers. Because of this, brands are putting the power back in their hands during activations, creating unique experiences that occur on their terms. A good example of this is when, earlier this year, Citibank put a huge ball pit in the middle of Times Square. Attendees who jumped into the ball pit were able to interact with their "JOYTM," which instead of money, distributed prizes. In a world where consumers don't always have a say in the information and messages that are being thrown at them, this is extremely impactful.
2. Cause Marketing
Yes, our goal as marketer's is to make money, but what if you could make money AND do something good? Cause marketing turns good into action. When we feel good, our consumers feel good; when we make our consumers feel good, the chances of brand loyalty and recognition is greater.
A perfect example of this is State Farm's, "Here to Help "campaign, which activated during Bonnaroo. Event-goers took refuge in the insurance company's 32-foot by 32-foot air-conditioned structure, which gave out useful items such as sunscreen, toothpaste, and bandanas. Statefarm encouraged the use of the hashtag #heretohelp, sticking to their company message and spreading it way beyond the activation footprint.
3. Learned Experiences
Simply put, brands are now making event attendees work harder for a reward. In order for them to get X, they must first do Y. Though this may seem somewhat demanding of the customer, brands are executing this in a way that is engaging, attractive, and hard to ignore. These learned experiences add a valuable (and not to mention, shareable) layer to the consumer experience. Watch how Kit Kat Brazil used their "Virtual Staring Contest Vending Machine" to bring this trend to life.
4. Tradable Experiences
People absolutely love free stuff…until they have too much. A free hat here, an energy bar sample there– they're all great. But when attendees begin to become inundated with event swag, not only does your brand risk getting lost in the rest of the "pile", but event-goers also become disinterested. This is why Hershey's created a "Swag Exchange" at SXSW, which created a ton of buzz for the relaunch of their Take 5 candy bar.
5. DIY – Maker Moments
Much like learned experiences, maker moments call for a special type brand interaction, in an even more hands-on way. With "Maker Moments", consumers are asked to create something for your brand. This trend is genius, as it causes attendees to slow down and take the time to soak in your message, especially when you are activating in fast-paced markets, such as NYC. This trend was seen at Coachella, where guests could customize shoes in the Popsugar Cabana Club with DSW. In a culture where DIY is becoming the new norm, this approach is a no-brainer.
Though these are just some of the upcoming trends in experiential, there are a ton more out there that will continue to evolve from year-to-year. Which of these trends are you most excited about acting upon?