DINNER FOR 80 – STAGING A UNIQUE OUTDOOR EVENT IN NYC'S HISTORIC FINANCIAL DISTRICT
Posted on: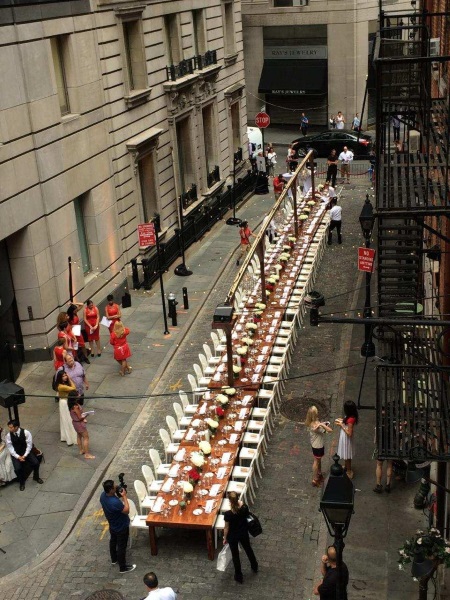 We recently facilitated the location, site licensing, approvals and secured permits for an event in NYC's Financial District hosted on July 21st by a leading Belgian beer company. Manhattan's first paved road, the historical cobblestone Stone Street, served as the perfect location for an evening event celebrating Belgium National Day, complete with jazz music, food and beer. Belgium National Day commemorates July 21, 1831 when Leopold of Saxe-Cobourg became the first king by swearing allegiance to the newly created Belgian constitution.
We performed location scouting throughout Manhattan before settling on the location Stone Street and Mill Lane in the Financial District. To capture the client's vision, we coordinated the contract with the managing party that allowed our client to activate in the space. We paid close attention to all details to ensure the historical cobblestone street was protected and residential regulations were observed. We also secured a sound permit for a live band performance during the event.
We oversaw and facilitated the entire event process, from securing the unique location, site agreement and permits, to the transformation of Stone Street and Mill Lane into an authentic Belgian Beer Garden. Firefly lights and beer chalice-chandeliers hovered over a long wood table, enhancing the magical feeling of summer. The invite list included about 80 bloggers and social media experts who enjoyed dinner and cocktails compliments of an iconic NYC restaurant and caterer. To ensure the event ran smoothly, we had 10 security staff onsite throughout the event, overseeing the safe and seamless production, management and breakdown of the event.
Our longtime relationship and alliance with managing parties on Stone Street assisted us to secure the best and most unique location for this special event. Our familiarity with the area ensured the event went off without a hitch. For more information on permitting special events in the Financial District, please contact us.
Permits by EventPermits: Sound Permit
Security Coordinated by: EventPermits
Logistics and Coordination by: EventPermits
Security Provided by: Marty Barnes Security
Location: Financial District, NYC
TJ Griffin contributed to this post.