EventPermits, Digital Domination, and Microsoft Corporation Take Over Times Square in Promotional Event
Posted on: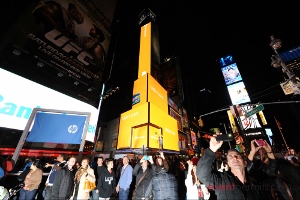 On October 25, 2012, EventPermits assisted Digital Domination and Microsoft Corporation in their 19-screen Times Square digital domination event in promotion of Microsoft's Windows 8 Launch and Microsoft Surface Tablet Store Grand Opening. This event was the first time that a single corporation had access to a majority of the panorama of screens in Times Square all at once. The domination included many of the larger screens in Times Square, like the NASDAQ Tower and the American Eagle screen.
One of the fun, interactive features of this event was the ground event that allowed attendees to sample Microsoft Tablets by displaying images they created on the tablet on some of the screens in Times Square through a live feed.
EventPermits assisted this amazing outdoor marketing event by securing the necessary permits, including the Street Activity Permits, Amplified Sound Permit, Generator Permit, Fuel Handler Permit, DOB (Buildings) Permit, Health Permit, Parking Permits, Sampling Permit, After Hours Work Permit, and Film Permit.
Permits by: PRomotion! / EventPermits—Street Activity Permits, Amplified Sound Permit, Generator Permit, Fuel Handler Permit, DOB (Buildings) Permit, Health Permit, Parking Permits, Sampling Permit, After Hours Work Permit, Film Permit.
Event Security by: Marty Barnes Security and D. Sterling Security
Event Logistics by: Team PRomotion!, ESP Productions (Nashville, Tennesee)
Promoted Brand: Microsoft Corporation
Screen Content Consultation: Don Blanton, President Wow Factor
Screens Powered by: WindTM –A Wow Factor Company
Times Square Screens: Port Authority, 7 Times Square, NASDAQ Marquee, NASDAQ, Reuters, Newscorp/SONY, Hard Rock Café, JVC, abc Super Sign, 1515 South, 1515 North, Aeropostale, MTV 44 ½, Disney, American Eagle, Spec HD 127 (West), Spec HD 128 (East), Spec HD 129 (TSA), TSQ