Posted on:


By Kate Bunster
Director of Marketing and Communications
Though it may be hard to believe, the end of another year is upon us! Often symbolizing new beginnings, the new year also serves as a time of reflection for many people. Here at EventPermits™, our team is going into New Year's Eve feeling extremely grateful for the amazing projects we have worked on. We've compiled a list of some of our favourite experiential activations throughout the years and are looking forward to continuing to "Permit the Impossible" in 2019.
1.Nivea Garden of Love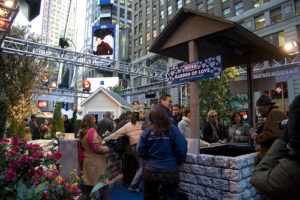 Love was definitely in the air throughout Nivea's Garden Of Love, a holiday pop-up which activated in Times Square on Valentine's Day. Inside the garden, lovebirds had the opportunity to have their photo taken on a swinging love seat with Lisa Rinna or Chrisette Michele and win prizes from an interactive wishing well. The images were then pushed directly to a nearby digital screen and sent directly to their mobile phones for easy social sharing! #TouchAndBeTouched
2. David Blaine Times Square Stunt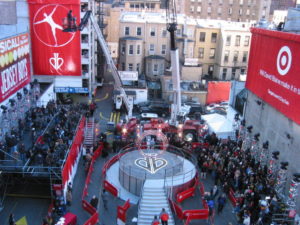 Famously known for his mind-boggling stunts, David Blaine knows how to keep people on the edge of their seats. When we were approached by our client to work on this project for Target's 3 Day Black Friday Sale, we knew it would be one to remember! The stunt consisted of Blaine entering a spinning gyroscope, which he was challenged to escape – 52 hours without food, water or sleep. If he was to complete the challenge, Target agreed to a shopping spree for 100 families in need to shop at their Jersey City store with Blaine leading the way. Of course, he succeeded.
3. Shameless Ice Sculpture, Chicago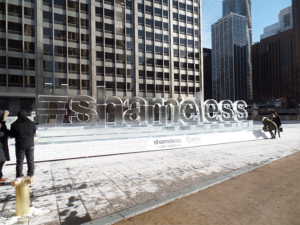 Working with our client, we helped kick off the new season of Shameless with this iconic ice Sculpture in Chicago. The sculpture consisted of more than 18,000 pounds of ice and served as the perfect backdrop for social media selfies!
4. Scrubbing Bubbles "Let's Bubble" NYE Campaign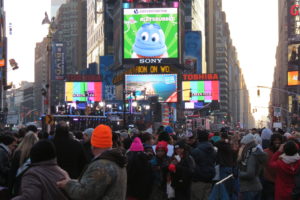 On New Year's Eve, we helped Scrubbing Bubbles kick off their "Let's Bubble" campaign. Consumers had the opportunity to nominate locations throughout the country that they felt needed some "bubble love." Using our proprietary Street-to-Screen™ technology, those nominations were projected on the digital screens in Times Square for all to see. #Let'sBubble
5. Marshalls Father's Day Wall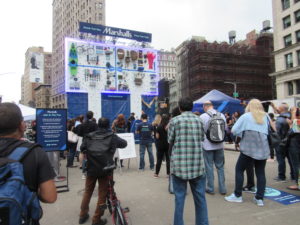 On June 13th, we helped Marshall's install a 30-foot by 30-foot wall in NYC's Flatiron District. Secured to the wall were Father's Day gifts, which included luggage, a bike, cookware, a kayak and more. When passersby approached the wall, they were asked to tell their best "dad joke." Then, they could select from the displayed merchandise, which was retrieved by a certified climber. #MarshallsSurprise.