Posted on: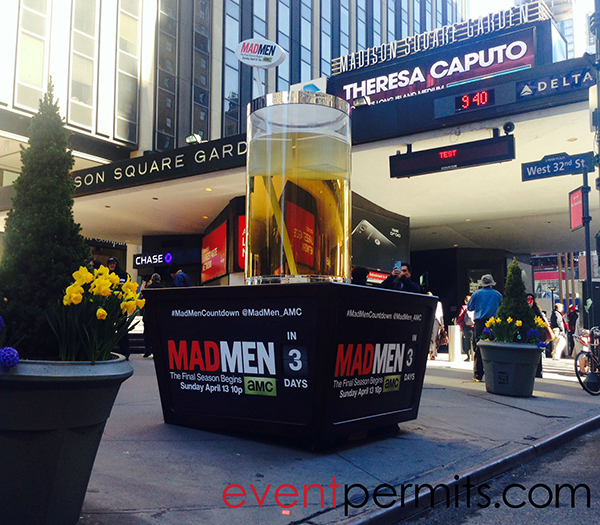 We recently worked with one of our agency partners to permit a successful and unique street activation just outside of Penn Station near Madison Square Garden. The activation was a singular installation placed on the sidewalk near Pennsylvania Plaza on 7th Avenue just before 33rd Street, across from the Hotel Pennsylvania. From April 10 through April 13, the installation slowly counted down the time until the premiere of the seventh and final season of a popular period drama television series.
The installation featured a 10-foot tall silver-rimmed and retro-styled highball glass perched on top of a stand advertising the show's premiere television channel, date and time. The 200-gallon capacity glass included a straw, faux ice cubes and was filled with a tinted liquid representing scotch, the alcoholic beverage of choice of the show's leading man. Much like an hourglass, the "scotch" in the giant highball slowly disappeared, performing a visual countdown to the show's premiere.
While this was not an experiential or interactive event, this street-level marketing activation still required an activity permit to allow the installation to be positioned on city property and on the sidewalk. EventPermits secured the appropriate permits, and also coordinated 24-hour security, provided by Marty Barnes Security, to protect the installation and ensure passersby did not climb on or damage the display.
The display was offset to avoid obstructing pedestrian traffic on the sidewalk. This placement also allowed the highball glass to be viewed by both pedestrian and automobile traffic as cars drove by Penn Station. This specific location ensured plenty of impressions as crowds enter and exit the subway station and travel to the popular Madison Square Garden destinations nearby. A sister display was also set up on the West Coast at the corner of Hollywood and Highland in Hollywood, CA to countdown the PST premiere of the show.
New York City is a popular destination for street-level marketing and event activations. Permits are crucial to the success of any event, and EventPermits takes away the guesswork and stress associated with securing permits so brands and agencies can focus on installing spectacular, engaging and memorable events. Don't let your activation get shut down! Call us today to discuss securing permits for a range of events from coast to coast.
Permits by EventPermits: Activity Permit
Security Coordinated by: EventPermits
Logistics and Coordination by: EventPermits
Security Provided by: Marty Barnes Security
Location: Penn Station/Madison Square Garden