Posted on:
MarshallsFather's Day Gift Wall Comes to Flatiron District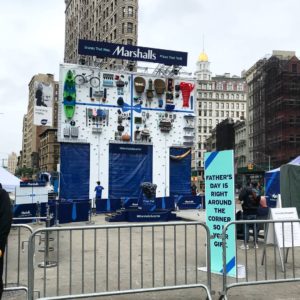 By, Kate Bunster
Director of Marketing and Communications
Whether you're a chronic procrastinator or have a Dad that seems to just "have it all," it's never a good feeling to be scrambling last-minute for a Father's Day gift. This year, Marshalls came to the rescue, proving that it's never too late to find the perfect gift.
On June 13th, we helped the discount retailer install a 30-foot by 30-foot wall in NYC's Flatiron District. Secured to the wall were Father's Day gifts, which included luggage, a bike, cookware, a kayak and more. When passersby approached the wall, they were asked to tell their best "dad joke." Then, they could select from the displayed merchandise, which was retrieved by a certified climber.
When our client, City Eventions, came to us with this exciting project, we rolled up our sleeves and got to work. We wanted to secure the perfect location that would attract the right crowd and increase brand awareness.
Working with our client, we decided on the Flatiron District as the ideal spot for Marshalls to hold this event. Aside from being a tourist spot, Flatiron is home to many restaurants and large businesses. A great location to find that on-the-go consumer!
The Marshalls Father's Day wall drew a huge crowd and earned a significant amount of social media buzz, using the hashtag #MarshallsSurprise. Even musician Kevin Jonas stopped by to pick out a gift for his dad! Stars- they really are just like us!
To view more coverage from the event visit:
http://creativity-online.com/work/marshalls-giant-fathers-day-wall/54788
http://www.thedrum.com/creative-works/project/leo-burnett-marshalls-fathers-day-billboard
#EventPermits #NYCBuildingDeptPermits #NYCPlazaPermits #FlatironDistrict #EventProfs