Posted on: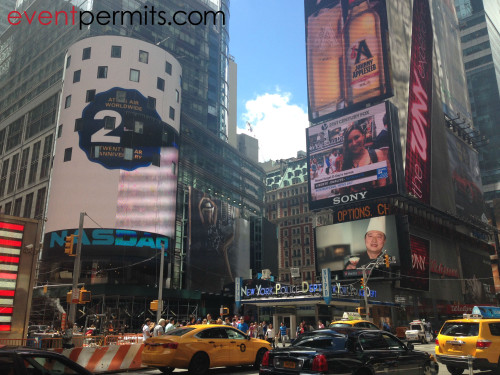 On June 6, we supported an event staged for a 24/7 news channel based in France using our innovative Street to Screen™ technology which allowed pictures taken at street level on an iPad using a custom-created app just for the event to be instantly displayed on the giant digital out-of-home FOX-owned screen in Times Square. The event also required a sampling permit and security, which we secured and coordinated.
The event allowed passersby to take pictures using an iPad and include a tribute message giving thanks for the Allied forces' efforts to liberate France during World War II. Using our proprietary Street to Screen™ technology platform, these images were then displayed on the FOX screen in Times Square with the news corporation's logo and slogan.
This commemorative event allowed visitors in Times Square to participate in the 70th anniversary remembrance activities taking place worldwide. Soldiers who served in WWII and who participated in D-Day gathered with Allied Heads of State including United States President Barack Obama, Queen Elizabeth II and President François Hollande of France.
Brand ambassadors were also on location handing out tee shirts to participants, American flags and French flags. This activity required a sampling permit, which we secured for the agency that designed this event. In addition, we coordinated security provided by Marty Barnes Security for the duration of the event.
Our Street to Screen™  platform maximizes brand impact by allowing brands to send live videos, photographs or other digital content to more than 20 eligible HD LED screens in Times Square. The platform syncs multiple screens of varying sizes and can incorporate social media networks and email. During this event, images were simultaneously emailed to participants and displayed on the screen in Times Square.
Street to Screen™ was also used to showcase Microsoft's launch of Windows 8 and the opening of the Microsoft Surface Tablet store in Times Square with interactive engagement that displayed the images that visitors drew on the new tablet on larger screens in Times Square as they were created.
This recent event allowed visitors in Times Square to join the global community in commemorating the 70th anniversary of D-Day by sharing an image and a comment, wish or tribute.
For more information about Street to Screen™ and permitting Times Square events, please contact us today!
Street to Screen™ by: Digital Domination
Permits by EventPermits: Sampling Permit
Security Coordinated by: EventPermits
Logistics and Coordination by: EventPermits
Security Provided by: Marty Barnes Security
Locations: Times Square, NYC