Posted on:
The where and the how to plan events in the cold and snow.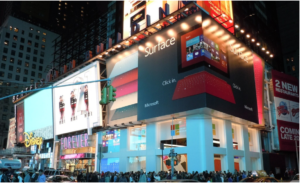 By, Stella Fitzpatrick – Contributor
Partner and CFO, EventPermits, LLC
Winter events can be tricky. Despite it being cold, cities are still bustling and lively. The same consumers that your brand desires to target are continuing their daily lives, heading from the subway to their place of work – regardless of the weather. As a matter of fact, the winter months are the best time of year to reach your brand's exact demographics because of the decrease in travel around the winter months (minus holiday travel) and the concentration of local foot traffic.
This is a great time to focus on areas like city centers, financial districts, and local entertainment facilities such as sporting arenas and movie theaters. Here are a few ideas that can satisfy your brand's needs through the cold days of winter.
1. Pop-up Stores
Pop-up stores are a great alternative to showcase a seasonal product or go inside from the cold. We have facilitated many pop-up shops for various brands throughout the years.
Many agencies think they need a huge budget when they think of "pop-up stores." This can be the case in many events, as they often have a high-ticket price. If your brand wishes to take over a storefront, retail space or barebones warehouse location for many weeks, this can start to become pricey, especially when you factor in the load-in, build, props, event sets and load-out schedule.
An alternative to this could be partnering with an existing store, location or restaurant that will give you space within their current space. Another idea would be to create your own space by purchasing or renting a shipping container or outfitting a mobile vehicle. And, our experienced team can help to facilitate with all of these strategies.
2. Indoor Venues
Indoor venues are also a great idea; but where do you start?! We have an extensive and up-to-date list of locations that allow for the marketing and distribution of product. Some of these locations are sporting arenas, business lobbies and transportation hubs.
Alternatively, there are other opportunities such as "seat drops" on subways and train systems where at the end of the line, brand ambassadors are allowed on the train to set magazines or other distributed materials on the seats of commuters.
3. Heated Tents and Geodomes
Heated tents and Geodomes are a simple solution for outdoor marketing through the winter months, however this choice can be complex without the right resources. EventPermits can cut through the red tape of building permits for oversized tents, fire inspections, generator permits, occupancy permits, etc. as we are also a registered General Contractor with the City of New York, and other major US cities.
We typically suggest the rental of clear tent sides so the consumer can feel like they are still outside, especially if the location looks like a winter wonderland. The warmth inside the tent is always a welcoming break for shoppers and locals alike.
4. Partnerships
Partnering with existing events such as Christmas markets, New Year's Eve celebrations in various markets, or the unveiling Valentine's art installations are a great way to take advantage of built-in foot traffic.
Our past events have included gift wrapping stations, the distribution of hats and clackers to NYE event goers, and sign up programs for mail-to-home sampling programs.
Another opportunity would be to partner with Digital Domination Media (a sister company to EventPermits) and utilize our Street-to-Screen™ technology. This is a cost efficient and impactful way to interact, in person, with patrons, while plussing-up your online presence with our built in social media add-ons! The customer's picture is taken via tablet or smart phone and instantly uploaded to our network of digital OOH screens in Times Square or any internet ready screen in the United States or the world. This is an effective way to communicate your brand's message to the public.
5. Alternative Markets
Permitting in alternative, warmer markets is the simplest of all solutions. Sometimes, no matter how much planning has been put in place, your dream location is not available and the countdown on the clock begins. Your brand client is e-mailing you for updates and your weekly call-in meeting is coming up. What do you do? Call us!
EventPermits has venues and locations across the country and relationships that are 20+ years old. Because of this, we are able to respond quickly and get answers for your clients within minutes or hours, making you look like a rock star to your team.
Follow us on social media for more event marketing tips and ideas and let us help you stay warm!