Posted on: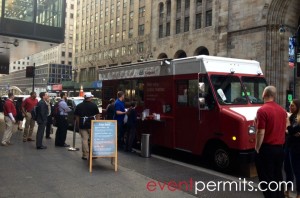 In the spring, we partnered with a nationwide experiential marketing agency to produce a successful multi-market food truck tour that stopped in five locations across the country for three days in each market. To assist our agency client, we coordinated venues for each stop and secured the necessary permits required in each city.
The food truck made the following stops:
March 18-20: Austin, TX on Congress & 7th Avenue
March 24-26: Atlanta GA at Atlantic Station in Midtown
March 31-April 2: Baltimore, MD on Pratt Street between Gay Street and Market Place
April 7-9: Boston, MA at City Hall Plaza
April 15-16: New York City, NY at Grand Central Terminal
The branded food truck represented a global mutual funds and financial services company. Cups of freshly brewed coffee were sold at each location for just 26 cents! The cost of the coffee was 1/5 the cost of a standard coffee, equivalent to the savings available from the company on mutual funds, which cost just 1/5 the industry standard. Company representatives were on site to further discuss financial services.
We secured activity permits or venue contracts for each city to allow the street and sidewalk activity. We secured health permits in Boston and New York City, and also coordinated a parking permit and security — provided by Marty Barnes Security — in NYC.
Capturing pedestrian traffic and morning commuters on their way to the office was essential for the success of this campaign. We scouted popular locations in each city where there was significant foot traffic and were also close to office complexes and buildings to attract those heading into work in the morning. Our familiarity with locations in each market and our strong relationships with municipalities and venues across the country allow us to efficiently and effectively coordinate logistics for all kinds of mobile marketing events.
Permits by EventPermits: Activity Permit, Health Permit, Parking Permit, Venue Coordination
Security Coordinated by: EventPermits
Logistics and Coordination by: EventPermits
Security Provided by: Marty Barnes Security
Locations: Austin, TX; Atlanta, GA; Baltimore, MD; Boston, MA; New York City, NY