Posted on:
Advocate Health Care Promotes Early Detection on Chicago's Magnificent Mile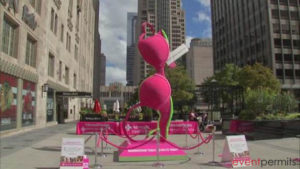 By Jennifer Respondi, Partner
EventPermits, LLC
In honor of Breast Cancer Awareness Month, Advocate Health Care installed a 16′ Breast Cancer Support Bra on Chicago's Tribune Plaza.
Coupled with HY Connect in Chicago, Advocate Health Care was able to bring this Breast Cancer Awareness project to life. Their goal was to draw attention to the importance of self-checks, in addition to regular mammograms for women; it is vital for early detection and preventative care.
The Breast Cancer Support Bra is part of Advocate Health Care's annual campaign, #StoriesOfTheGirls.
EventPermits assisted in the location scouting and legal presentation of the Breast Cancer Support Bra. Additionally, we worked with the City of Chicago to turn the skyline lights from white to pink throughout the month of October for the "Light the Way to Find a Cure" campaign. This was the second consecutive year for this portion of the activation.
Advocate Health Breast Cancer survivors stood together with one another beside the sculpture on the day of the event. They shared their stories and the importance of breast cancer awareness through early detection, self-checks, mammograms and treatment options. Participants were given pink carnations to show their support, along with pink lip balm from EOS.
The 15,000-pound bra provided an eye-catching photo opportunity for passersby. Besides being an interesting social media photo, the Bra Statue contributed to a much greater cause. After all, for every photo posted with the tag #SupportYourGirls on Instagram & Twitter, Advocate Health Care donated $1 to the American Cancer Society.
The event was broadcast on local news stations such as WGN-TV, ABC 7, Fox 32, and CBS 2 in Chicago.
Read more about the activation here:
http://www.chicagotribune.com/news/ct-bra-sculpture-pioneer-court-20141001-story.html
http://chicago.cbslocal.com/2015/10/01/giant-bra-on-michigan-avenue-drawing-attention-to-fight-against-breast-cancer/
http://www.fox32chicago.com/mornings/advocate-health-care-raises-breast-cancer-awareness-in-big-way