Posted on: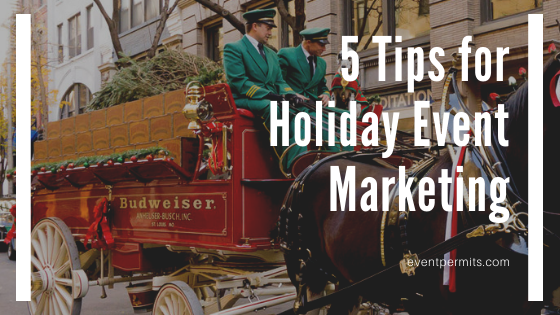 It's that time of year again for holiday event marketing! The holiday season is upon us and while it is generally "the most wonderful time of year," it can bring up some unique challenges for event marketers.  From the NYC holiday permit embargo, to inclement weather, the event planning process can easily become frustrating, but fear not! We have compiled a list of 5 tips to get you through the season.
Familiarize Yourself with Seasonal Restrictions
Brands LOVE to activate during the Holiday Season.  But cities have permitting embargos in place, and shopping centers build massive holiday displays in the areas we all prefer to activate.  This makes event planning a bit trickier, but not impossible (especially with an experienced event partner)! It's all about having options and we know where to look! EventPermits has the answers to all your permitting needs during the most wonderful time of year!
Plan Ahead…and that Means, Today
It's never too early to start planning. In fact, if you plan to activate during the holidays, you should already be planning. If you haven't started yet though, don't panic. We can work with you to narrow down your top event locations choices and then work with you to lock in your dates for your top choice, as well as handle all your permitting needs.  Event venues book fast during the holiday season. "Soft holds" don't work during this time of year. Everything is booked on a "first come – first served" basis, so pick up the phone and call us to start the planning process right now!
Consider the Weather
Along with the Holidays, comes an increased possibility for inclement weather. Inside or out, we can help you pinpoint the right spot for your event in any USA market. Whether you need heating systems, lighting, branded cold-weather gear for your Brand Ambassadors…or anything in between, EventPermits can turn the heat up for you! 
Pre-Bake Your Social Media Success
In today's digital age, more and more it's all about creating those memorable and "Instagramable" Mediagenic™ moments. EventPermits can work with you to come up with an event plan that "pre-bakes" in the goodness of your social media success, in advance, no matter what the weather brings on event day
Peace (and Permits) on Earth!
EventPermits will roll up our sleeves right along with you, and take the necessary steps to see to it that you have a PEACEFUL Holiday Permit Season, by assuring you have ALL of the correct permits that you need, in order to activate in almost any major market in the USA.  Don't get shut down and trigger the Holiday Blues.  EventPermits has got you covered for every season!
Why choose us for your event planning solution? Find out here!
For ideas on how to create memorable holiday marketing campaigns click here!