Posted on: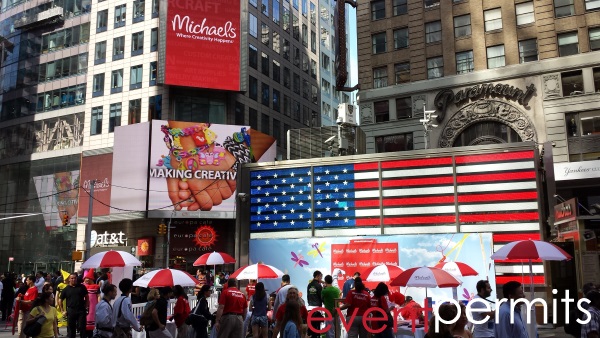 On June 27th, 2014 a major arts and crafts retail chain hosted an event in NYC to celebrate their return to Initial Public Offerings (IPOs) on NASDAQ. The IPO launch event took place on the newly refurbished Broadway Plaza in Times Square, between 43rd and 44th streets diagonally across from the NASDAQ digital sign. Our team coordinated all production elements, including obtaining the permits and security required to run the event. The company's CEO arrived at NASDAQ to witness the 9:30 a.m. opening bell ceremony, which kicked off the event.
The client's goal was to recreate a playful outdoor summer atmosphere for crafting. They accomplished this by installing a 30′ x 20′ piece of astroturf onto the footprint, which featured several craft tables, white and red beach umbrellas, and a photo booth.
Passersby had two exciting craft options to choose from: decorating felt mustaches for their photo booth moment, or creating sculptures with a unique kinetic sand sold by the company. Kinetic sand looks like wet beach sand, but only sticks to itself, so there's no mess. This not only pleased the kids, but their parents as well! Needless to say, the event may not have left a mess in Times Square, but it certainly left a lasting impression on its attendees.
Part of our production coordination also included staffing 32 brand ambassadors and life-sized brand characters in costume, in addition to two security guards. The brand ambassadors and security were on-site until the end of the event, which was marked by the 4 p.m. NASDAQ closing bell.
Special events in Times Square and the surrounding area are an excellent way to kick off an IPO. In May, we supported the IPO of a take-and-bake pizza company by securing permits, a location and security for the event.
If your client is planning an event to commemorate an Initial Public Offering, please contact us today.
Permits by EventPermits: Activity Permit
Security Coordinated by: EventPermits
Logistics and Coordination by: EventPermits
Security Provided by: Marty Barnes
Location: Times Square, NYC