Posted on: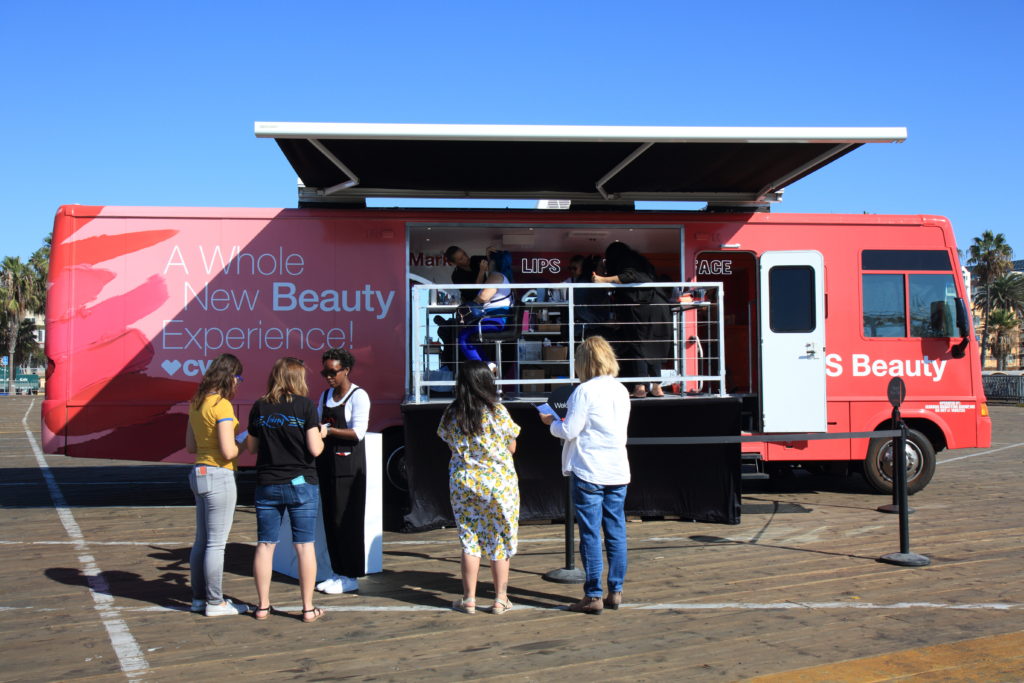 On November 8th, the CVS Beauty Bus Tour kicked off in LA at the Santa Monica Pier with an exciting day of all things beauty.
The nine-day mobile marketing tour gave attendees the opportunity to experience CVS's latest game-changing in-store beauty offerings. CVS, who recently partnered with Glam Squad, announced that they will now provide in-store beauty services, including blowouts and styling, makeup application, lash extensions, makeup tutorials and ear piercing, through a partnership with Studex.
Inside the bus, attendees were greeted by CVS brand ambassadors who were available to help them test out products and answer questions. Complimentary 10-minute makeover and hairstyling sessions were also available to those who signed up.
After getting their "glam" on, attendees made their way to a giant mirror inside the bus where they could write what beauty means to them in lipstick. Then they stopped by the "Beauty Unaltered" photo booth to snap some pictures with their new look.
Upon exiting the bus, attendees received a free SWAG bag with CVS Beauty products to sample and take home with them.
CVS Beauty services can currently be found in 50 store locations so far. Glam Squad is also available to come to your home, office or hotel in major cities across the US including New York, New Jersey, Massachusetts, Florida, California and Washington D.C.
Additional locations and permits for the CVS Beauty Bus Tour included, Venice Beach, Hollywood and Vine and Town and Country Shopping Center.
To learn more about CVS Beauty products and services click here.
#CVSBeautyOnTour #CVS_Beauty #CVSBeauty
For more information on how we can help with your next event contact us!